Support our work
With your help we can develop campaigns and interventions to help the industry and society moving faster in the transition to net zero.
We investigate the connections between climate change, policy, gender balance and energy.
We connect, cooperate and share knowledge where and when we can.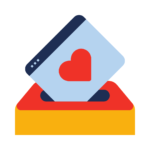 Choose your donation
75inQ is Accelerating the Energy Transition by bringing Gender Balance to the Table.
by supporting 75inQ:
You help accelerating the energy transition
You support our mission towards gender equality
You drive societal change in providing affordable and clean energy for all

Support 75inQ and focus on what really matters