WOMEN leading the Energy Transition
Ontmoet en laat je inspireren door vrouwen aan het roer van de energietransitie.

Gehost door 75inQ en ECWO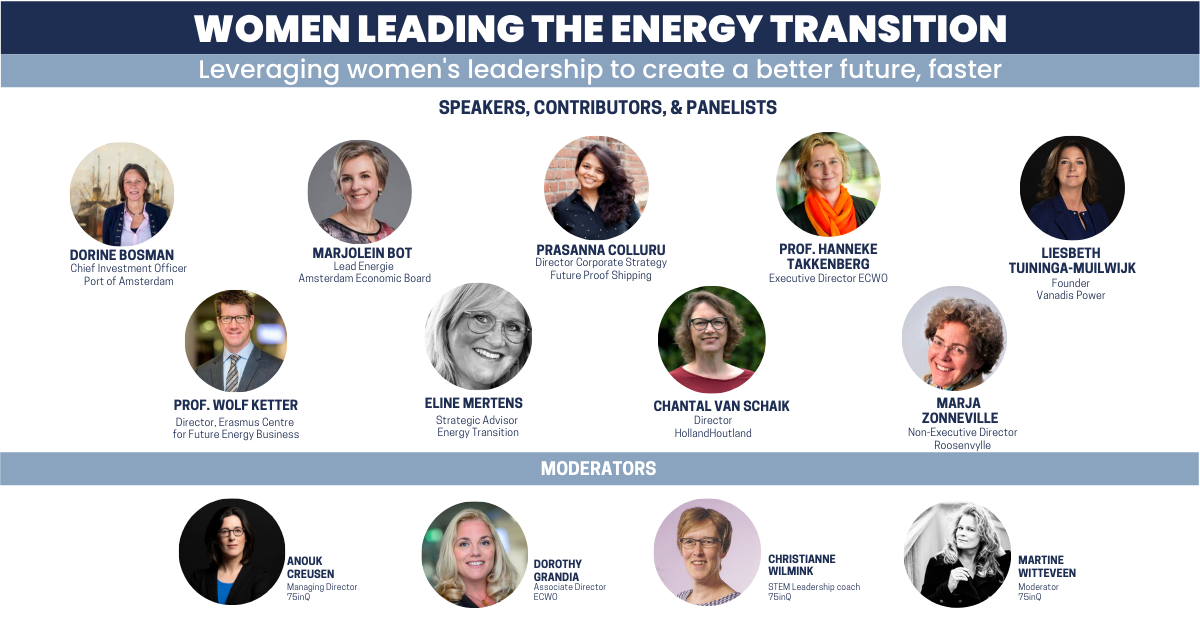 Publiek
We verwelkomen iedereen, maar moedigen deelname aan van vrouwen met ten minste vijf jaar ervaring in:
Both fossil- and renewable-based energy generators and distributors, including utilities and policymakers
Recent entrants into the energy transition landscape that are creating a sustainable, renewable-energy-based future by offering real and virtual storage development
Industries increasingly affiliated with demand response and flexibility, for example: energy-intensive industry, the automotive and mobility industries, logistics and transport, telecommunication, real estate and building management, automation and control services, electrical manufacturing and infrastructure and information systems management.
Workshops
Change Track
Are you looking for inspiration and guidance in taking the first steps towards a career in sustainable energy?
Learn from women who have successfully made the switch during this interactive workshop.
Engage within
Do you see plenty of opportunities for organisation to contribute to the energy transition – but struggle to get support for substantive initiatives?
Facilitators share their best personal leadership practices in this interactive workshop.
accelerate impact
Do you already have a leading role in the energy transition and want to build your network and hear how other leading women overcome challenges to cross-industry collaborative initiatives?
Workshop facilitators will give insight into how to find network partners and more.
De winst van het evenement gaat naar het Dianne Bevelander Memorial Fund , dat is opgericht om de oprichter van ECWO te eren door de erkenning en ontwikkeling van vrouwelijk leiderschap.
---
Mensen leiden de transitie